Great first week of action!
Great first week of action!
Dear SUCU members,
An amazing day two of the action today! Our pickets have been solid and strong despite inclement weather on both days so far, and we were very grateful for support from local MP Olivia Blake today! If you saw the General Secretary's email yesterday you'll have seen that she is confident that if we can keep this up, we'll see a shift in the employers' position.
This week was half term and we were glad to welcome some very young picketers to Jessop West. We'd love to see as many dogs as you have available at the picket on Monday!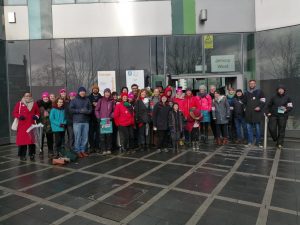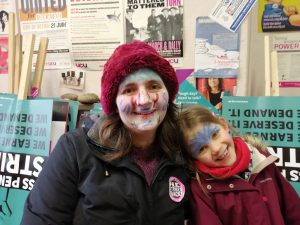 Our teachouts continue strong, and we have a great line up of talks next week! On Tuesday we're hosting a screening of the film The Battle For Orgreave with activists from the Orgreave Truth and Justice Campaign. Register to reserve your space here! On Wednesday, we will be rallying after pickets on Wednesday at 12.30pm after Firth Court. Also on Wednesday, we are going to have picketers on every single building –talk to people in your work areas about making Wednesday a huge action!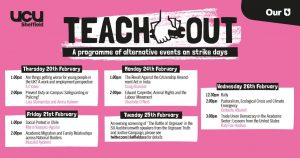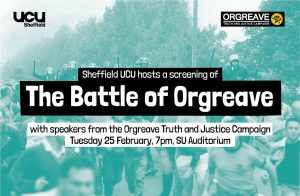 You may have seen some of the media coverage of the strike yesterday – the General Secretary on Radio 4's Today programme, the segment on Channel 4 news, and branch VP and national pay negotiator Robyn Orfitelli on BBC Look North.
We are meeting the Vice Chancellor with representatives from the Students' Union again on Tuesday 26th February. We'd like your feedback on anything you think we should be raising at that meeting. We're glad that all parties are continue to work together constructively at this point, but at the same time we want all UCU members to be asking tough questions of their leaders right now. It's completely unacceptable that the employers are reluctant to move at speed here – the disruption that is currently being caused is on their conscience, and we need to apply as much pressure as we can.
Please take the weekend to rest and recharge and we look forward to seeing you again on the pickets on Monday morning. As ever, if you have questions, concerns, or feedback, please get in touch.
All best wishes,
SUCU Committee