Fixed term contracts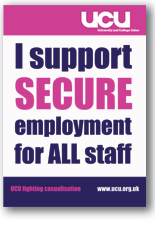 Staff on fixed-term contracts are a priority for Sheffield UCU. We are talking to management about changes that will benefit both the university and researchers.
Your contract
One of the most difficult times can be when a fixed-term contract (FTC) is coming to an end. If you are in this situation, we can make sure you know what the university's obligations are. These depend upon the nature of your particular contract, when it was signed, what clauses it contains, whether it has previously been renewed – all of which affect your legal entitlements.  The law is changing and it is very important that anyone who has had two or more fixed-term contracts over four years is converted to open-ended status without delay.  It is also unlawful to discriminate against fixed term and part time staff regarding access to training, opportunities for promotion, work space etc, as well as other employment rights.
How do I request confirmation of permanence (open ended status)?
Have you worked for the university for more than four years and do you still receive fixed term contracts?  Use the information and template letters in the link below to request permanence.
What should happen if I am at risk of redundancy?
SUCU has negotiated a set of new change management policies (agreed May 2013) for all staff (including those on a FTC).  These include redundancy and redeployment policies and procedures.
Helping members gain open-ended status
We also meet monthly with the university to discuss fixed-term employees whose contracts are coming to an end. We have already helped over 150 individuals to gain permanent open-ended status.
Research funding is an issue
There are ways of employing researchers differently.  Some universities have research units which attract funding from a range of sources and employ permanent researchers on a number of projects, and the University of Sheffield is looking at this model in a couple of areas in the Engineering Faculty. It makes a pool of research expertise and experience available.  It implicitly recognises that researchers have transferable research skills, as well as specific expertise, with more experienced researchers being able to develop and lead projects. It also provides scope for career development and it helps to ensure that, in the event of researchers leaving or falling ill, the projects with which they have been involved can continue.
We are talking to management about changes which would benefit both the university and researchers alike, and it is essential that researchers join UCU and actively engage with us in order that their concerns can be highlighted, and suggestions implemented.
The pattern of research funding creates a serious barrier to the management of research, and funding tends to follow a model of tying researchers to projects, often meaning staff spend a year learning the job, a year being productive and then a year looking for their next job – a huge waste of potential.
 Resources