Take action today to support service workers on campus!
Dear fellow members,
As you know, over the past month, representatives from UCU, Unite, and UNISON have been meeting with the University of Sheffield human resources team twice a week to negotiate over issues related to the safety and security of all of the workers on this campus.
We are writing to you today to make you aware of the unfortunate policy which UNICUS, a wholly owned subsidiary of the University of Sheffield, has adopted during the current crisis. While the University has agreed to top up the government furlough scheme from 80% to 100%, UNICUS has elected to adopt the government furlough scheme only. This means that UNICUS staff, a mixture of students and non-students, will be making only 80% of their usual salaries during this time. UNICUS workers have been speaking out about the unequal conditions they are experiencing and The Forge Press has also written about Unite's call for pay parity for UNICUS staff.
The bottomline is that many of the lowest paid staff members working at our University will now be making less than the living wage, threatening their ability to provide basic necessities for themselves and their dependents during a global crisis. It sends a clear message that some members of our campus community matter more than others.
UNICUS, which helps to run accommodation, commercial, and hospitality services, including many of the food service venues at the University, is a legally separate employer from the University of Sheffield. However, as a wholly owned subsidiary, it is nonetheless heavily intertwined with the University. For example, the two employers share a Chief Financial Officer, and the director of UNICUS is also the director of University of Sheffield Accommodation Services. Line managers employed by the University of Sheffield are in many cases responsible for managing employees from both TUoS and Unicus. In addition, the University is far and away UNICUS's largest client.
For all of these reasons and more, the University ultimately bears a moral responsibility for the treatment of UNICUS staff.
After an extensive lobbying campaign by the Student Union and campus trade unions several years back, the University agreed to pay a living wage to all staff. UNICUS subsequently committed to paying "the equivalent of the Living Wage" as well and claims it has "an ongoing commitment to our most valuable asset, our staff; recognising their talents, the great customer service culture they display and the positive way they contribute". A policy which denies workers a living wage during this crisis belies this commitment.
Many of you have already contacted us asking about the conditions of UNICUS staff and expressing your support. The Unite, UNISON, and UCU branch committees have jointly written to the director of UNICUS asking the company to provide proper support to their staff during this crisis. However, it is imperative that we speak up collectively as a campus community to make it clear that the University bears a moral responsibility to ensure that all workers labouring at the University, whether directly employed or not, must be able to provide for themselves and their dependents.
If you are able, please take 5 minutes today to email UNICUS director/ University accommodation services director Caryn Masters at c.masters@sheffield.ac.uk and copy in the VC at vc@sheffield.ac.uk.
An injury to one is an injury to all!
Solidarity,
Sheffield UCU Branch Committee
Update on Branch Response to COVID-19 Crisis
Dear fellow members,
As we head into the extended Easter break, we thought it would be a good time to update everyone so that we can go into the long weekend with a little less uncertainty about the university management's response to the coronavirus. We know how much work everyone has been doing to juggle caring responsibilities, working from home, preparing for an entirely new way of interacting with and teaching our students — and all of this alongside the emotional toll of dealing with the ongoing crisis. We hope that you will take the full extent of this holiday to relax (to the extent that is possible) and step away from work entirely. We are going to be doing so as well.
Updates from Coronavirus meetings with HR
Since Tuesday, 17 March, the staffside unions (UCU, Unite, and UNISON) have been meeting with members of HR twice a week to represent and negotiate for the needs of staff during this crisis. We have been meeting with HR far more often than we usually do and we have been pleased to see that they have also been taking the current situation very seriously. We feel that our institution has worked with us in a collaborative and productive way. Our ongoing discussions suggest that we have been leading the sector in support for staff in the ongoing crisis. While there are still a lot of outstanding issues to address in the coming months, we have made some good progress in important areas like support for casualised staff.
We have been trying to keep you regularly updated with news from these meetings through emails and our online EGMs, but here are some of the main points.
Pay
We've been hugely successful on negotiating furlough conditions for staff on Casual Worker Agreements. Staff applying for the furlough scheme will be paid 100% of their expected wages at least until mid June. Around 1000 casually employed staff who are eligible will have received an email about this. If you're concerned about your eligibility or hold multiple contracts, please email coronavirus@sheffield.ac.uk  We are really pleased with our success in this area and think we are the first institution in the country to offer this kind of support to casual workers.
We have made some progress on Fixed Term Contracts with a focus on those due to end before mid June. Some contracts have already been extended and some have been turned into Open Ended Contracts. We are still waiting to hear back from management about how they will process each case but they have informed us that they're being "proactive rather than reactive" in their communications with individual departments and line managers.
UNICUS, which is a subsidiary that is fully owned by the University of Sheffield is refusing to pay its furloughed staff 100% of their wages. We have been working with the other campus unions to ensure that all staff across campus get treated equally and are working on a joint letter calling on UNICUS to ensure that all of its staff are treated in full. It is not acceptable to ask the lowest paid workers at this institution to make an additional sacrifice in pay during this crisis.
Support for staff
HR have confirmed there will be an extension to the promotion deadline. We have asked for clarity on what changes will be made to the promotions process but we are still waiting for more detail on what promotions will look like in this round
All restructures have been paused unless staff have specifically asked for them to continue. Similarly, all disciplinary procedures, except in cases of gross misconduct (or in cases where members wish to continue with the process), have also been paused. If you are approached about a disciplinary procedure please do get in touch with us.
We have asked for better working from home support and are waiting to hear about provisions to make reasonable adjustments for disabled members as well as risk assessments for home working including Display Screen Equipment.
Both ourselves and the Students' Union have raised issues related to TUoS' support of PGRs. The UCU and the SU will be working on this together especially as there is a lot of crossover between the UCU's role in supporting PGRs as staff members and the SU's role in supporting PGRs as students
There has been a pause on all new recruitment, however we have been reassured that each case will be considered individually. A new Recruitment Approval Panel has been set up to consider all new hires and they have made the following decisions: anyone who has received an offer and has a start date before 19 April is automatically approved; all cases where the start date is 20 April or after will be considered, and they may ask for additional information about some of them before approving them.
Staff are encouraged to take annual leave where possible. We know that in some cases this may not be as feasible owing to changes in term dates. Where this is the case, do ask your line managers for support.
Staying connected and getting involved in worker advocacy
Even while we are working from home, there are ways that you can get involved with UCU and other campaigns involved with coronavirus related advocacy.
After the Easter break, we will be holding another online EGM. Details on date and time to follow, but we hope you will come along to ask questions and hear updates on what is happening both locally and nationally.

Corona Contract is a new self-organised group of UCU members fighting for the rights of HE staff on precarious contracts. They are holding a zoom webinar meeting this Thursday night at 7pm which you can register for here. Attend to learn about how you can get involved in fighting against precarity during this crisis.

Take a look at general resources to get involved in fighting for workers' rights, including the TUC Coronavirus webinar, and Sheffield COVID support map, which gives information on local mutual aid groups and community hubs you can support or volunteer with.
Dispute update
The intensity of business over USS has been unabated by coronavirus, with the board confirming that they will be going ahead with the 2020 valuation despite the unsettled markets and unknown ultimate economic effects. It is hard to see how a meaningful long-term assessment of the scheme's health can be made based on the 31 March data, and the regulator is still to issue guidance to schemes with such a valuation date on how to proceed. That said, there is positive joint work going on between UCU and UUK on methodology which is being discussed with USS at the Valuation Methodology Discussion Forum.
In contrast, there was a brief halt in the negotiations in the Four Fights dispute due to illness. Discussions are going to begin again after the Easter break, with a planned meeting between UCEA and the UCU pay negotiation team. We will be able to send you a much more concrete update at that point.
On a central level, UCU president Douglas Chalmers has written to members of the National Executive Committee, expressing UCU's intention to make sure that national meetings of the NEC, HEC, and FEC (Higher and Further Education Committees, respectively) will continue in an online format. The next HEC meeting is planned for the 24th of April.
In closing, please do have a restful weekend. We hope all of you are safe and healthy. As always, if you need any advice or support, please do not hesitate to contact us at ucu@sheffield.ac.uk.
Best,
Sheffield UCU branch committee
Branch response to coronavirus
Dear fellow Sheffield UCU member,
We have received numerous emails about the current situation with Coronavirus (COVID-19). We have been in contact with management about your concerns and we sent a joint letter along with the other campus unions to the Deputy Director of Human Resources to express our concerns about the [then] University's response to the unfolding situation, and to seek assurances on a number of points.
Committee were in the process of writing a message to update you on this and national UCU activity around the COVID-19 virus when we received Prof. Koen Lambert's email to all staff yesterday evening, making our message out of date. This is clearly a fast moving situation and we need to understand in more detail what is being proposed and what this means for our membership. We will send you a more in-depth email on Monday. However, in the meantime we wanted to let you know that we are doing everything we can to make sure your concerns are being addressed, especially seeking a clear University wide approach to ensuring:
Time off for staff requiring self-isolation due to the coronavirus should be treated as special leave and not form part of the usual sickness absence policy or associated procedures, including performance management or disciplinary processes

Consideration should be given to those staff who are more vulnerable by virtue of either their own underlying health conditions or those of their dependents or other close contacts, and self isolation as a preventative measure should be allowed in those cases

Casual workers whose work has been affected should receive pay in line with their normal working patterns where that work is disrupted. We understand that this is the agreement the Students' Union has reached with its staff

Staff should not suffer any detriment, regardless of their contract or agreement. Advice should be provided to staff around the various visa types, with details of how the university will seek to avoid detriment to them

We understand that the University will not be requiring 'fit notes' for staff absent due to self-isolation, and we expect that this information will be communicated clearly to all staff on the incident page

We all recognise the particular expertise of our colleagues who primarily teach online. Online teaching is a specialised pedagogical method that requires training and bespoke practices and materials. There can be no expectation that staff who do not already teach primarily online will close this gap within the time constraints we face. This will require sensitivity from management when issuing instructions and guidelines, particularly with regard to workloads in conditions of high stress and health risk
UCU national is also taking this very seriously, with yesterday's National Executive Committee and emergency Higher Education Committee discussing COVID-19 extensively. We expect more information early next week about the union's response and how this relates to our ongoing disputes.
We are aware that members in professional services and non-teaching roles have raised concerns about the lack of guidance from the University so far on how their work will be affected. We would advise all members to check their email ahead of coming into work on Monday, as the situation is very much in flux.
As usual, please do message us if you have any concerns or questions and we will do our best to respond. We are conscious of the seriousness of this situation, and out of concern for members' safety, members of the branch committee will be monitoring our communication channels over the weekend.
Sheffield UCU committee
"And You're Supposed to Be the Clever Ones!" A Comment on Unsustainable Academic Workload
Being a University lecturer or professor conjures up images of very brainy people sat in worn leather armchairs, thinking through the biggest problems in their subject after reading enlightening articles by their colleagues so they might too write a paper to contribute to the wealth of knowledge or invent a new process or material or cure to contribute to civilisation. They may then present all this along with more broad education in the field to keen students in a lecture theatre.
These images are indeed what academia should be about. Research and teaching is what makes up the contracts of all T&R academics. It was until recently seen as a very attractive job with flexible working patterns, autonomy, freedom to be creative, and impactful; training and inspiring the next generation while impacting and solving some of the biggest issues for civilisation. It was collegial, collaborative, with unpredictable peaks and troughs of work depending on research results and student numbers. Such unpredictability demanded a "give and take" culture which was par for the course.
You will note the past tense. It is a long way from the attractive job outlined above. One can argue it hasn't been like that for a very long time but the 20-odd years I have been in academia the pressures, the changes are remarkable: the job is unrecognisable from when I started. For me, the biggest issue, the driving force that is really making me consider leaving my job and the sector is workload.
So what has happened over the last decade? I should caveat that I am not an economist, historian, social scientist or management expert, so the next paragraph could be nonsense academically, but from where I stand, I see something similar to what happened in the NHS.
Academics really care, like NHS staff care. Our work is not as crucial as the life and death situations which NHS staff deal with, but we do feel a devotion to our students and a passion for our research that goes beyond simply work. Unpredictability, collegiality, and a give and take ethos exists in both environments.
So when both become marketized and managed in a new economic way, what happens? The first thing that happens, as a result of assessing everything in terms of finances only, is cuts. Activity comes to be supported by business plans with only financial considerations. In most businesses,  certain cuts would have negative impacts on business, so would be reassessed. But these impacts were not seen when they should have been in the NHS and in academia because staff could not bear to see a reduction in services. NHS staff work unpaid overtime to give desperate patients the care they require. Likewise for academia, we would not agree to a reduction in care for our students or to not pursue that research idea that is our passion. And so it transpires we are squeezed, and because of our overwhelming loyalty and devotion to colleagues and students, we work for free!!
However, unlike most aspects of the new overworked NHS we also have a global competitive culture. We compete with well-resourced research professors in countries where there is less of a workload issue, and also with our colleagues here in the UK "happy" to work 14 hours a day (no exaggeration) – colleagues who do their teaching and admin/leadership by day and research by night.  I try really hard to set boundaries. I cannot rob my children of their parent during their childhood, so I end up doing most things just good enough, satisfactorily or even badly when I just don't have time. I have to work overtime for paper writing and grants that are competitively judged and this work goes long into the night once the kids are down. But winging it is too often a necessity. It is common for me to be paralysed with long lists of job only I can apparently do, that all need doing NOW, before I teach in an hour. Finding time to eat lunch is out, I am bound to my office and my email as I need to review some potential student before a noon deadline, send some other overworked academics some metrics on me for some national body or other, review a tutee's extenuating circumstances case NOW for the meeting happening at 1pm, write the lecture and photo copy the material that I am due to deliver in an hour, no 40 mins now. Ahh. Which do I do first? Forget lunch, forget the new exciting teaching I was going to try, hello old notes, don't even have time to go to the loo, so here I arrive in front of a lecture of 120 students, hungry, needing a wee and unprepared. Winging it.
So what does this workload look like? For an excellent account of the reality of a teaching and research staff academic workload see this excellent blog post. What I am interested in exploring here though is how we have effectively fallen between two stools. We work for free, yet in a marketized system. We need to value our own labour within the context of marketisation and we currently simply do not.
A solicitor once described how they charged for their time by the hour and/or by the letter written. He snorted when he was told about some free paper reviewing we do saying "And you're supposed to be the clever ones!!"
It is basically too embarrassing to carry on these conversations with other professionals when we think of the lists and lists of things we do for free. Under the heading of professional standing and leadership we are sitting on national advisory, editorial advisory and learned society boards, as well as decision panels for interviews and research council grants etc for free. We organise and run conferences, for free. Under the heading of research, we review grants and papers all for free, most (for grants) and some (for papers) of which is wasted work that does not result in a positive outcome.
Let's look a bit closer at the latter two.
We perform our research and thus write a paper. Most of us would agree this is part of what we get paid for. Then we submit the paper (which is invariably a complex and time-consuming process). Then an unpaid academic editor sends this paper to be reviewed for free by several unpaid academics. Changes are suggested and hopefully the unpaid editor accepts the paper. Frustratingly editorial changes are now more commonly made by the author (rather than a paid-production team)  and the paper is printed. This results in a bill for the author for the pleasure of publishing and/or a bill for the institution or individual that wants to read it. No money is being spent on anyone's labour in this process. Where does all the money go?
Research funding is another. We spend months formulating and crafting excellent research bids. Grant writing is rarely accounted for in workload time. So this is again mostly done for free by academics. Again unpaid academics spend time reviewing these grants and then further unpaid academics acts as a panel member so must read all these grants and reviews together and spend even more time sat on a panel to judge them.
Success rates were at 10% for several research councils last I looked, so not only is this huge amount of labour again unpaid, 90% is fruitless!
If 10 people wrote large grants, requiring 3-5 reviewers per grant resulting in a panel this would result in approximately 365 days of free academic labour[i] to give 1 person funds to do some research.
So why do we do it? Why do we review grants and papers? The system we work in depends on it. If I didn't review other people who would review my grants and papers? While most of this work is designed to be anonymous, people do not just do this work as a selfless act for the sector. There is an ulterior motive: the element of "friendly" reviewing is key in any research community, so the better your networking, the more time you can be present at conferences, "sell" your work, build relationships, review someone's grant or paper favourably, just in time for them to review yours back, the better for theirs and your career. This has massive implications for the careers of those that don't have this time to work for free: those with caring responsibilities, those that find it difficult to travel to conferences due to childcare or disability. It is this sort of work that gets you promoted, and lack of it, the opposite. I believe this element of unpaid work is a major contributor to the gender pay-gap.
Yes, all free labour is unaccounted for on most workload models and when present, vastly underestimated. Once an academic has won a research grant (through a process demanding nearly 2 working day years of unpaid labour), many institutions do not even workload the time the academic has on the grant to perform the research! The time actually paid for by the tax-payer is not work-loaded; it is effectively stolen by the institution.
This pattern of unpaid labour is seen not just in the research aspect of our job, it is anywhere we let it happen which is usually when we let others down (such as our colleagues and students) if we don't do the unpaid work. For example, just for our students, this covers unpaid preparation time for lectures and pastoral care for tutees (ours and others), writing them references for summer placements, jobs, further study etc.
When workload models are actually challenged with regards to all this unpaid labour we are constantly met with "well that is not financially viable" to include it all. It is "not financially sustainable", so the result is that the system only works if we all work 70+ hour weeks? If proper work-loading is unsustainable, it is the model/system that needs fixing. To fix this system, we need to start charging for every bit of our labour. It is sad but true that the only way to count worth in this marketized world is financial. You need me to review a grant, pay my employer and give the time.
Academia is simply not an attractive job anymore. The salary is not competitive, with 20% real terms reduction in recent years. The pension was seen as a big draw, but not anymore. But worse for me is losing job satisfaction. I yearn to be given the time and space to sit down and do just one aspect of my job well, to a high standard. A standard I know I am capable of yet never have time to get anywhere near.
I am sure I know creative academics with the skills and expertise that could look into these issues, if only they had the time…
[i] Calculated on 1 grant taking 30 days to write, 1 review taking 1 day, and panel members spending 2-4 days on reviewing and attending the panels.
SUCU GUIDANCE AND INFORMATION TO MEMBERS ON INDUSTRIAL ACTION
UPDATED February 2020
Sheffield UCU committee remains hopeful that Universities UK (who represent the employers on USS matters) and UCEA (who represent the employers on pay) will table meaningful offers before we are required to undertake a further 14 days of strike action.
Our advice is that you should write to Koen Lamberts – send him an impassioned plea to intervene with the employers' bodies on vc@sheffield.ac.uk and copy us in (ucu@sheffield.ac.uk). Ask him to exert pressure on UUK and UCEA.  Talk to your students, and ask for their support. Come along to one of our meetings, get in touch with your departmental rep, talk to your colleagues and ask them to join us. Posters and leaflets should be prominent in your department – put them on your doors and notice boards (you can download them here, or collect from our office at 2 Hounsfield Road). Talk about the dispute on social media, if you have it.
We'll be sending you a lot of emails over the coming weeks. Please read them, and talk to us if you need to – we are here to support you. We know this is tough and we're committed to ensuring that all of our members are supported to undertake the action asked of them.
Here is the latest information for members. This is a long document, but it's important – please read it all!
NOTE: UCU nationally has issued detailed advice to all members, available here. Please read it, and please keep checking back for updates.
Financial Support for Strike Action
Information for migrant members
Student Support for Strike Action
Teach Out Programme, Events and Pickets
Further Information and Resources
An Appeal From Your Branch Officers
Strike Action
UCU members are asked to take strike action on the following dates: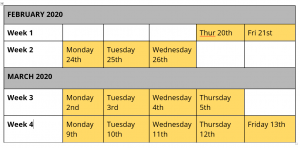 When you are on strike, you do not work.
This includes time before 9am and after 5pm and includes any activity which is part of your work such as teaching, administration, meetings, emails relating to work, marking, research, events, or conferences where you are directly or indirectly representing your employer. Don't do any work!
We believe that the University will be deducting pay on the basis of 1/365th of your annual salary per strike day.
We don't yet know what arrangements will be in place to ensure continuity of service in USS. We'll update you when we have that information.
You can read the University's FAQs on industrial action here, but please take our advice if there are differences in the messaging.
Research-only contracts:
If you are on a research-only contract and you are taking strike action, you should not work and should follow all other advice.
We have heard from several research-only members who have expressed concern that their strike action does not have an impact on the University. It does: your work will be slowed down and your email auto-responses will go to your funders, partners and colleagues. Your presence on the picket lines will help our action.
Research-only externally funded contracts:
If you are employed by the University on an externally-funded contract and you take strike action you should not work and should follow all other advice.
If your employment contract is with an external funding body, or any other body or agency, you should not strike.
Hourly-paid and GTA contracts:
If you are employed on an hourly-paid or GTA contract and you take strike action you should not work and should follow all other advice.
PLEASE NOTE: in order to be eligible to claim from the fighting fund, all GTA members must ensure that you have 'standard free' membership, not student membership. This is essential. You can update your membership via MyUCU (you will need your membership number, which you can find in the email welcoming to you to UCU).
Research leave:
If you are on research leave and you take strike action you should not work and should follow all other advice.
Annual leave/parental leave/sickness absence:
If you are not at work for these reasons during strike action, you cannot strike. This is the only 'dispensation not to strike' that our members have, and we encourage you to donate any earnings to the local hardship fund if you can.
Action Short of a Strike
Members will also be continuing to take action short of a strike during the breaks in strike action and following the completion of the strike until further notice.  This might include:
working to contract
not covering for absent colleagues (unless your contract specifies that you do; for example, being asked to cover classes or teaching for a colleague who is unwell)
not rescheduling lectures or classes cancelled due to strike action. This includes any scheduled teaching activity which would have taken place on one of UCU's strike days and applies to all UCU members, not just those directly responsible for the relevant lecture or class. You should refuse to reschedule this activity when asked, stating in response that you are supporting UCU's action short of a strike. You should also not share materials that would have been covered in a lecture or class cancelled due to the strike.
not undertaking any voluntary activities (that is, work you have a choice about. This will differ by contract but, for example, working on a Saturday is voluntary for many members)
Please note the ballot we voted on included a marking and assessment boycott as part of ASOS. We have a mandate for that action but it is not as yet being called as part of the February-March action. We will update you further if this changes.
If you have already rescheduled lectures or classes that were scheduled during strike action, or your Head of Department has rescheduled them, then once action short of a strike has resumed you should not teach them.
If you are a professional services member of staff, you too are covered by ASOS and working to contract and there is specific guidance for PS staff from UCU nationally available here.
Working to contract means abiding strictly by the terms of your employment contract.
If you're in any doubt about what you are required to do, check your contractual documents –  your offer letter, statement of main terms and conditions and/or any staff handbook. Contact us for further advice if you need it.
Taking action short of a strike does not mean that you can refuse a reasonable request from your manager to undertake something that isn't covered by the examples above.
How reasonable any request is will depend on the terms of your contract and custom and practice. If in doubt – or if your actions are challenged by someone senior to you – temporarily suspend your action and contact us for guidance.
The University is unlikely to make punitive salary deductions when you are legitimately working to contract.
Notifying the University
You are NOT required to formally notify anyone in advance of 20th February that you are intending to take action. If your manager asks you in advance, you can reply that your union has advised you that you shouldn't answer this.
If your manager asks you whether you are taking action short of a strike, you should answer them truthfully. However, you should not answer any such query while you are undertaking strike action.
If your manager asks you after strike action whether you took it, answer them truthfully.
We recommend that you complete a notification form for strike action as soon as possible after you have taken the strike action. The university has agreed for the present time not to collect information regarding action short of a strike. 
If you experience problems or need guidance on notifications, get in touch and we'll help.
Deductions
Once again, the university has agreed to spread out deductions for strike action. For this round of action, deductions will be spread over March (5 days deductions),  April (4 days deductions) and May (5 days deductions).
Financial Support for Strike Action
UCU Fighting Fund
Members earning over £30,000 pa can claim strike pay after the third day of action for up to £50 per day (subject to a cap of £800). Members earning below £30,000 pa can claim £75 per day from the second day of action (subject to a cap of £1,100). Financial support will be prioritised to lower paid members and those on insecure contracts. Full information and details of how to apply will be circulated as soon as we have them.
We strongly encourage you to apply to the fighting fund if you need to. Applications can be made once deductions of salary can be evidenced by following this link.
If you can manage without, or claim a lower amount, please do.
SUCU Hardship Fund
Your first port of call should be the central fighting fund – UCU nationally has vastly more resources than we do locally. We recognise, though, that national strike pay may still leave some members experiencing hardship; either because of the level of deductions or because of their personal situation.
Members who are sole-income households, or are on precarious or part-time or temporary contracts, may be particularly affected. Applications to the SUCU Hardship Fund can be made at this link. Please note that applicants do not need to wait to evidence salary deductions before applying to this fund.
The SUCU Hardship Fund is made up of solidarity donations and branch funds.
Information for migrant members
Since the UCU industrial action in early 2018, there have been changes to the immigration rules that make explicit that unpaid leave for the purposes of industrial action is exempt from the reporting duties for sponsors of Tier 2 and Tier 5  visas.
The change was announced in July 2018 by Sajid Javid (see full statement here): "It is not the Government's policy to prevent migrant workers from engaging in legal strike action; and, to date, I am not aware of any case where a migrant worker has had their leave curtailed, or been removed, as a result of having engaged in legal industrial action. However, to put the matter beyond doubt, I will be making changes to the guidance and Immigration Rules for migrant workers (under the Tier 2 and 5 immigration routes) and their sponsors."
You can view the updated rules here, and the updated guidance for sponsors here.
UCU's specific guidance for migrant members taking action is here.
Student Support for Strike Action
UCU and the NUS are sister unions, and we have support for this action from them both nationally and locally. A motion was passed at Sheffield's SU Council in early November in support of the action, and NUS nationally released a joint statement with UCU in early September:
"NUS stands shoulder to shoulder with UCU and asks its members to:
call for higher education employers to recognise the seriousness of the situation, agree to reopen negotiations on casualisation, workload and pay inequality and put pressure on USS to implement all of the recommendations of the JEP
write to their institution head to raise concerns about the impact such disputes will have on their learning
participate in local demonstrative solidarity action, both during the disputes and the likely strikes, in support of UCU members.
In response, UCU agrees to:
work closely with NUS to explain to students why action is taking place and to update students as matters progress
commit to meaningful negotiations to resolve the disputes
continue to support NUS in the wider struggle for a fair and just education system."
You may find an updated press release from the NUS here.
We are working closely with Sheffield SU on this action and we are incredibly grateful for their support and solidarity.
Please talk to your students about the action, and ask them for their support. Our working conditions are their learning conditions, and we'd like them to join us in writing to Koen Lamberts directly with messages of support, asking him to exert pressure on Universities UK and UCEA to go back to meaningful negotiations immediately. The email address is vc@sheffield.ac.uk.
Teach Out Programme, Events, and Pickets
We're thrilled to have put together a programme of alternative events for strike days. Members from across the University will be delivering talks in the Students' Union in the afternoons of all strike days on a whole host of topics that showcase some of the fascinating work we do here.
A preliminary schedule of teach-outs for the first five days of the strike is available below. If you'd like to volunteer to deliver a talk in the final 9 days of the strike, please contact Katy Fox-Hodess at katy.fox-hodess@sheffield.ac.uk.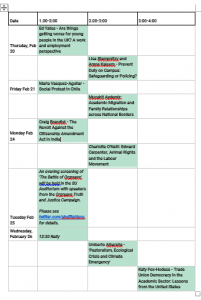 Please also join one of our picket lines. If you were a member in 2018 and 2019, you will remember that our pickets were scenes of fun, creativity, home-baking, music and fancy dress. We will be picketing all major University buildings, and you can collect placards and at the union office at 2 Hounsfield Road (it's just behind the Sainsbury's at the University tram stop, opposite the back of the Harley, and has big UCU signage – you can't miss it) from 7.30am on strike days. Get your colleagues involved!
Making picketing more accessible:
We appreciate that being outside for extended periods of time, often standing up, and holding placards can be challenging. Here's some advice on how to make that process easier:
Organise picketing shifts within your department so that not everyone needs to be there for the whole picketing period (your departmental rep/contact should be able to help with this)
Feel free to bring along a small camping chair or similar if you need one, but do take care not to block the pavement or prevent anyone else's access to the building
If you have a medical condition that might require immediate access to a toilet, feel free to use the one closest to you regardless of whether or not it is behind a picket
Remember that coffee shops, pubs, the union office at 2 Hounsfield Road and the Students' Union are all 'neutral spaces' that you are free to use throughout strike days.
Feel free to take a break from the picket if you need one.
Free sandwiches from John's Van are available to all picketers wearing an armband or carrying a placard or otherwise identifiable as a striker on strike days: please make use of this
Please read and familiarise yourself with UCU's guidance on picketing. If in doubt, please call the picket supervisor.
Further Information and Resources
Upcoming meetings
We'll email you about these and publicise them on twitter – please do come along. If you're having a departmental UCU meeting and you'd like a branch officer to come along too, get in touch.
Background to the dispute
There is an enormous amount of information now in the public domain about our ongoing disputes over both the USS scheme and pay and equalities. Please browse our blog, watch the videos from our branch officers and national negotiators, and email us or come along to a branch meeting if you have any questions.
Email auto-responses
We recommend that you set these up starting from the 20th February and leave one or both on (depending on the date) until the dispute is over. If you need help setting up an auto-response, see here.
ON STRIKE: I am on strike today until [date] as part of UCU's industrial action over the USS pension scheme and our pay and conditions.  Your email will not be read and you will need to resend it on [date].
ACTION SHORT OF A STRIKE: I am working to contract as part of UCU's action short of a strike over the USS pension scheme and our pay and conditions. There may be a delay in my response due to workload issues.
You might like to include links to further information about the disputes in your out-of-office messages, or direct any students you work with to alternative sources of support.
An Appeal from your Branch Officers
We need your help. This is voluntary work on our part – the paid time we get to undertake UCU business, which is called facility time, doesn't remotely match the work on our own time we do on behalf of all our members. We support individual members through casework, negotiate policy, contracts and terms and conditions, campaign on important issues facing the sector and much besides.
If you'd like to get involved with any aspect of the current dispute, or are interested in otherwise becoming more active in SUCU, please contact us on ucu@sheffield.ac.uk.