A great first 3 days: Keep it up!
A great first 3 days: Keep it up!
*** Come to the joint rally with Sheffield Hallam on Thursday, with guest speakers including UCU General Secretary Jo Grady. And do keep coming to our teach outs – every single day after picketing at the Students' Union (more details below)***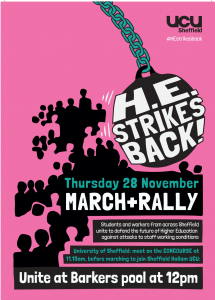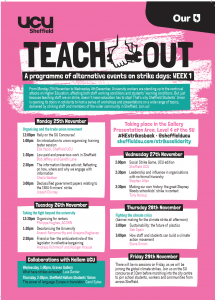 Dear SUCU members,
*This is a long email – you might find our short twitter thread about the outcome of Monday's meeting with the University easier to digest*
Our pickets on Monday and Tuesday were extraordinary – thank you so much to everyone who came out, held a placard, offered a leaflet, had a conversation and danced.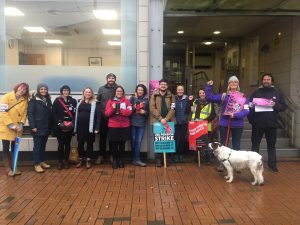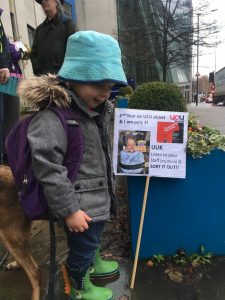 We had a lunchtime rally on Monday with speakers from our branch committee and the SU, followed by really successful teachouts on both Monday and Tuesday – it was wonderful to see so many of you there.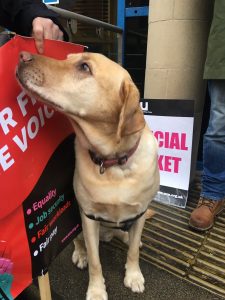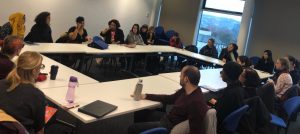 <h3>Local and national negotiations </h3>
After the rally, we went along with three of the SU Officers to a meeting with the Vice-Chancellor and other members of the University's management team. This was a productive and positive meeting and all parties agreed to keep lines of communication open. We are likely to be meeting again on Monday next week.
One of the items covered during the meeting was the timeline of strike pay deductions. The Vice-Chancellor has agreed that no pay will be deducted in December, and that for all members, the deductions will be split between January and February. We will continue to be in discussion with university management about the details of these deductions, and to advocate for an approach that supports our most precarious members. We are hoping that the progress we have made thus far will support members in accessing the central fighting fund.
We also discussed Action Short of a Strike (ASOS), in light of the email which was sent to all staff last week. University management have clarified their intentions and assured us that they do not intend to seek deductions for action short of a strike (ASOS). They have indicated that they will be monitoring the progress of the dispute, and that if, at a point in the future they change their position on ASOS deductions, they will be in communication with staff in advance.
We'd like to reiterate our advice from last week, which is that we are not aware of any deductions being made for action short of a strike for any of our members in recent memory. If you have any concerns or questions around ASOS, please do email us.
When we return to work next week you do not need to confirm that you are undertaking action short of a strike by completing a form, but you should answer truthfully if your manager asks you. You will need to complete a strike notification form, and we will send a separate email about that on Monday or Tuesday next week.
We were pleased to hear that the University is committed to ensuring that our salary deductions will be used for the benefit of students, who will be directly involved in the allocation of funds.
We had a long discussion with the VC about the current disputes on Monday and he assured us that he will continue to do everything he can to try to resolve the disputes. Our Vice President, Robyn Orfitelli, met with UCEA yesterday alongside the rest of the pay and conditions negotiating team from UCU. Based on this discussion, UCEA have agreed to return to their member institutions, and have committed to a written response early next week. It is very clear that it was UCU's strong ballot result and the prospect of solid industrial action which have brought UCEA to the table. Our continued show of strength and commitment to all four areas of the pay, casualisation, equalities, and workload dispute is having an impact, and we need to keep it up.
Upcoming events
Our teach out continues today and Thursday – please have a look at the sessions and go along if you can, and follow us on twitter @sheffielducu for images and descriptions of the events. We will also be circulating the Teach Out schedule for next week.
Tomorrow, Thursday 28th, we will gathering at the SU Concourse and making our way to Barker's Pool for a rally hosted with Sheffield Hallam UCU. We're delighted that Jo Grady and local MPs will be speaking there and we'd love to see as many of you as possible get involved – bring an umbrella!
On Friday we will be joining the city-wide climate strike. We will set off at 11:30 from the SU Concourse down to Devonshire Green, to join the students for a 12:30 march to Barker's Pool, followed by a rally at 1pm Please come along and help us demonstrate that Sheffield is taking the climate emergency seriously.
We'd also like to give you some advance notice that the branch will be hosting a party on the evening of Wednesday 4th December. Come along to DINA on Cambridge Street for food, music, karaoke and some well-earned relaxation after all your efforts. We'll circulate an eventbrite link for that soon – please register for yourself and any other friends, family or supporters as you choose.
Thank you once again for all your efforts and for continuing to keep our pickets creative and good humoured. As ever, if you have any questions please get in touch with us and we hope to see you soon.