October 2019 Newsletter
Welcome back to a new school year! In this bulletin, you can find updates on the pay and pensions disputes, the Climate Strike, support for international students and scholars, the Equality Groups conference, earlier deadlines for module and programme changes and more. 
But first, please mark your calendars for next Tuesday, October 8, when  UCU General Secretary Jo Grady will be returning to Sheffield for a visit on as part of her national speaking tour! She will be giving a talk from 5:30-7:30 pm in Diamond LT4. Please register to attend here and follow the event Facebook page for any updates here.
October General Meeting
Our first membership meeting of the new school year will be Thursday, October 17 from 1-2  pm in Firth Court.
Updates on Pay and Pensions Disputes
We held a briefing at the end of September for all staff on the disputes over USS and pay and equalities. 
With a sharp step up in USS rates due in October and the methodology for the next valuation currently being formed, our branch president and national USS negotiator Sam Marsh explained how crucial the next few months are to the future of the scheme and why we must take a stand now. You can watch his short presentation here.
Our branch VP and national pay negotiator Robyn Orfitelli demonstrated how below inflation pay rises interact with precarity and unequal promotion pathways to create generational pay inequality, and how a strong ballot result can help us fight back. You can watch her short presentation here. 
For further information, please see the poster below.
Our next organising committee meeting will be Thursday, October 3 from 1:00-2:00 in Hicks F28. All members are welcome to attend. 
We will also be holding a special Ballot Day event from 1-3 on October 8, the same day as Jo Grady's visit (see information above) in the Council Chamber of the Octagon. Please bring your ballots to post and stay for some pizza. For those who are able to stick around, we will be doing GTVO activities after lunch. Please help us get the vote out!
If you have any questions or would like to get involved, please contact Communications Officer Katy Fox-Hodess: katy.fox-hodess@sheffield.ac.uk.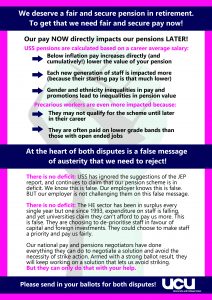 Report back from Climate Strike 
A big thank you to everyone that participated in the Climate Strike on September 20. We had  a fantastic turn out from UCU Sheffield. We were part of the largest action against climate change ever to have taken place, and got to hear from a couple of youth strikers themselves! Importantly, we also demonstrated that there is strong support amongst staff for urgent action on climate change. If you are interested in getting involved with future organising on this issue, please contact UCU Sheffield Climate Strike working group coordinator George Coiley at ggcoiley1@sheffield.ac.uk.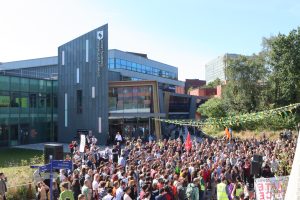 Get Involved with UCU in the New School Year (Even on a Busy Schedule. . .)
You don't have to be a branch rep or officer to be involved with UCU! 2000 members contributing just 15 minutes per week to UCU is 500 hours per week of union support, which makes a huge difference in our local and national activism!
We've designed three posters (below) showing 8 ways you can get involved in Sheffield UCU: one if you have 15 minutes a week to spare, one if you have an hour in a week, and one if you want to get a bit more involved (although still not with a huge time commitment). Print out one (or more) of these posters to help you stay involved even during the busy term time! 
And remember, right now, the number one way you can help UCU is to send in your ballot papers!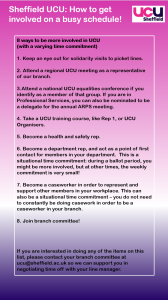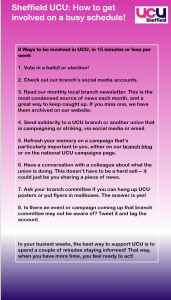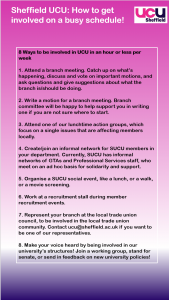 Unis Resist Border Controls
Sheffield branch has been active on issues related to migrant members for some time, including working collaboratively with Unis Resist Border Controls in the #LetAhmedStay campaign. URBC have brought another awful case to our attention – you can read about Adriana Ortega-Zeifert's situation here. We have sent a message of solidarity and a donation to Adriana's legal fund on behalf of the branch, but encourage all Sheffield members to also do what they can to support. Details of how you can do so can be found here. 
Stop the Repression in Egypt – No More Academic Collusion with the Dictatorship
According to the Egyptian Centre for Economic and Social Rights, more than 2000 people, including prominent academics, have been arrested since 20 September, in response to peaceful protests criticising current president Abdel Fattah al-Sisi. We are alarmed that Boris Johnson believes that the UK can make "positive progress in our bilateral relationship" with the Egyptian regime in such circumstances. We are also deeply concerned that once again, UK universities are showing their willingness to put potential revenue from student fees before commitment to human rights and academic freedoms, by pursuing partnerships with private educational firms running "branch campuses" or offering UK degrees in Egypt.
Please consider adding your name to the public statement calling on UK universities operating in or planning to open for business in Egypt to suspend these projects until the human rights situation improves enough to ensure that academic freedoms are protected and calling on the regime to release political prisoners, respect human rights and protect freedom of expression.
UCU Equality Groups Conference

UCU's various Equality Groups will gather in Birmingham in November for their annual meetings. These cover the four areas of disabled members, black members, LGBT+ members and women members. People who are active (or wish to be more active) in any equality work of our union and identify with any of these categories are welcome to sign up to attend these conferences. More details here. Last year's Congress also created a migrant members committee, which will meet in a stand-alone conference in early 2020 – we'll update you on how you can be involved in that conference closer to the date.
As a branch, we also have the right to move motions and nominate a candidate for election to each of the various standing committees mentioned above. If you have a particular policy area you would like to move a motion about, or are interested in serving on one of these UK-wide committees, please get in contact with our E&D Officer, Mark Pendleton at m.pendleton@sheffield.ac.uk
Update on Earlier Deadlines for Module and Programme Changes 
We've been hearing from members who are extremely worried about the sudden announcement that the deadlines for making changes to modules and programmes for 2020/21 have been moved forward this year, from late January to late November. These earlier deadlines are already driving up academic and professional services staff workloads during the first months of the academic year, which for many of us are already some of the busiest in the calendar. 
Staff are dismayed at the short notice they've been given, with the announcement coming just a couple of weeks before the start of the new semester. Not only that, the move threatens to derail carefully laid PLA plans in many departments, where colleagues have been working hard to plan curriculum changes for 2020/21, as dictated by the university's PLA strategy. The earlier deadlines are linked to delivering the new student system, and SUCU is concerned that the university is driving forward two contradictory initiatives – the Student Lifecycle Project and PLA – with little thought to their coherence or their impact on staff workloads and wellbeing. 
The earlier deadlines will also make it hard for departments to respond to student feedback on learning and teaching. Once the November deadline passes improvements to teaching can only be made for September 2021, which may leave staff delivering courses that they know need to be improved but can't do anything about. With the university's increasing and unwelcome reliance on metrics, including for learning and teaching (in ACP and the module evaluation process, for example), we're worried about the impact this will have on student satisfaction, course evaluation, and promotion cases for teaching staff.
With the HE Pay and Equality ballot open, now's the time to take a stand against escalating workloads and stress levels, and the complacency of HE senior leadership towards the detrimental impact of their decisions on staff. 
Have Your Say on the University's Vision and Strategic Plan
At this crucial turning point in the sector, we encourage all members to engage with the new VC's vision for the University. What priorities, objectives and strategies would you like to see at Sheffield over the coming years? 
Read the Vision Green Paper here: https://www.sheffield.ac.uk/polopoly_fs/1.862239!/file/vision-green-paper.pdf 
Register to attend a feedback session here: https://www.sheffield.ac.uk/staff/vision-green-paper/sessions or feedback via email: our-vision@sheffield.ac.uk