USS: 2017 Dispute Resources
A collection of information relevant to the 2017 dispute of the USS pension fund. Bookmark me!
The best way to keep up to date with USS news is by following our Twitter account. Below, we've collected together things that are interesting or relevant, sometimes both.
Strike Notification Forms
Member of staff at the University of Sheffield? Use these forms, rather than those provided by HR, to notify about the strike action (when asked to provide one!).
We do not recommend that you complete a form indicating that you are taking action short of a strike. However, if your manager asks you verbally whether you are undertaking action short of a strike, you should respond truthfully.
Hardship fund
In addition to the national strike fund, we run a hardship fund for those most in need, such as casualised workers or those in severe financial difficulties.
You can apply to the hardship fund online. If you would like to donate to the fund, you can do so using the details below.
Account name: UCU Sheffield 70 Hardship Fund
Sort code: 60-83-01
Account number: 20391171
Posters, flyers and videos
There have been some excellent posters, flyers and videos made in relation to the dispute. Here are some of the best.
Flyer by Sheffield's Students Union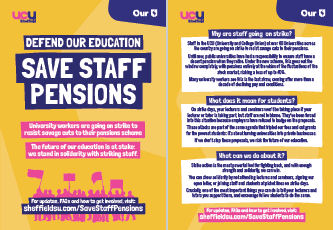 (Click image for PDF, or download files for modification, including fonts here)
Video by Warwick's Student-Staff Solidarity Group

To embed in your own page, copy and paste the code below.

<iframe src="https://www.facebook.com/plugins/video.php?href=https%3A%2F%2Fwww.facebook.com%2Fstudentstaffsolidarity%2Fvideos%2F2141481339421587%2F&show_text=0&width=560″ width="560″ height="315″ style="border:none;overflow:hidden" scrolling="no" frameborder="0″ allowTransparency="true" allowFullScreen="true"></iframe>
Something to read
Want to find out what's been going on with USS? Start here.
Slides from our February roadshow:

What can be done for USS?, Sam Marsh, Marketisation of Higher Education Blog, 6 November 2017
(Written at an early stage of the national negotiations, this gives an explanation from scratch of the main ideas behind the valuation.)
Ten reasons why USS is a scandal waiting to bite back, Sam Marsh, Marketisation of Higher Education Blog, 18 January 2018
(Also, slides from a talk at Leeds University on the same subject matter here.)
UUK can't transform a sow's ear into a silk purse, Mike Otsuka, 13 December
(Why UUK's claims on how much worse off you'll be under their proposals just don't add up.)
Hear from those in the know
Carlo Morelli, one of UCU's national negotiators, visited Sheffield on Monday 11 December to talk to our staff about USS. Branch officers Sam Marsh and Matthew Malek, who both serve on the University's USS Working Group, also gave their thoughts.
The session was recorded, and you can hear the audio and view the slides at the links below.
Carlo Morelli on USS (audio only)

Letters to key people
We've been writing to Sir Keith Burnett. You can follow the correspondence below.
We've also written to Bill Galvin, Chief Executive of USS:
Petitions
Please sign the petitions below, calling for transparency from USS and for Sir Keith Burnett, Vice-Chancellor of the University of Sheffield, to speak publicly on the importance of secure pensions for staff.
Technical documents
Here are some technical documents from USS that have made it into the public domain.
We have representatives on the University of Sheffield's USS Working Group, formed in February 2017 to look into the (then) upcoming USS valuation. You can find outputs from the working group below.
Guidance for industrial action
SUCU guidance for taking industrial action
And finally…
We marked Universities UK's homework, "5 facts: #USS pensions", which is in need of a fair bit of work. So far we've resisted the urge to pass it round the staff room for laughs, because we know they're trying their best. (Click image for full document.)